Realistic, 2023 Instructor Exam quesitons
When you purchase these  PADI IDC Mock Exam papers, you're getting replicas of the real final Instructor Exam topics.
You can rest assured that you're getting the most current and up to date help.
All based on the latest 2023 Instructor Manual.
Replica PADI MOCK EXAM PAPERS
These mock exams are based on the very latest:
Training bulletins,
PADI Instructor Manual and
Current Exam question topics. 
PADI IDC Mock Exams - 2023
Taking mock exams is a great way to prepare for your PADI IDC. By simulating exam experience, you get a feel for future tests. Also you can identify areas that need improvement. The practice will also help you manage any anxiety and help you stay calm and focused under pressure.
They're written in the same format and the same content as on the current PADI Instructor Exam.
PADI Practice Exams - 2023
Each individual exam (A, B, C, D or E) is a replica of what you'll find on your final PADI Instructor Exam. 
Each has
5  Theory Exams each with 12 questions
1 Standards Exam with 50 questions
And of course all of the answers.
Buy each exam separately for US$15 each (or the equivalent in your currency)
The PADI IDC Mock Exams are the perfect way to prepare for your exams.
You'll get plenty of practice, the more practice you get, the more confidence you'll have.
When it comes time to take the real thing everything will feel so familiar.
When you're getting ready to take a big exam, like the PADI Instructor Exam, it's always a good idea to do a little practice beforehand.
By taking practice exams, you can get a feel for the material and the format of the test.
You can also identify any areas where you need more study.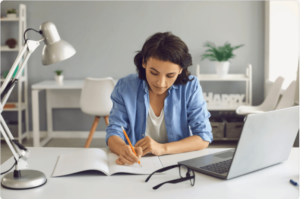 Additionally, taking mock exams can help to reduce test anxiety and improve your confidence on exam day.
So if you're feeling nervous about your upcoming course, be sure to take plenty of practice exams first.
It could make all the difference in your performance.
PADI IDC Mock Exam Papers
PADI regularly change the questions on their PADI IDC.
It's important that you study up to date topics.
These PADI practice exam tests are very similar to the exams that you'll find on your final PADI Instructor Exam. 
The subjects and topics are the same as the PADI questions, but not the wording! 

It's not the idea to give you the actual questions!
The whole idea is that you're fully up to speed so that not only will you fly through the final PADI Exams, but you'll also be a great PADI instructor. 
The Latest Questions from PADI IDC and PADI IE Exam
It's obvious that the more practice that you get with PADI IDC exam questions, the more confidence that you'll get. 
However, it's also important that you practice with the most recent updated versions. 
PADI regularly update exam questions. 
Change the wording
Introduce new topics
Leave out old topics
Change the emphasis
Make sure that you're using 2023 style questions and advice for your PADI theory test.
Imagine this scenario:
You're taking your final PADI IE,  and you get flummoxed with a question.
You do know the answer, but in the pressure of the moment you blanked.
If only you had taken a bit more time in preparing with some practice exams before the course started!
That's just one reason why it's always a good idea to answer as many PADI IDC exam questions as possilbe.
What are the benefits of PADI Mock Exam Papers?
Practising with PADI IDC Mock Exam Questions will allow you to get familiar with the format of the IE Exams, the types of questions that you'll be asked and practice using your Instructor Manual.
You'll also be able to identify any areas where you need to brush up on.
And then, if you do happen to miss a question, you'll know exactly what to study before taking the real thing.
So please don't wait until the last minute – make sure to take a few practice exams before your course so that you know all of the very latest PADI IDC Exam answers and can be as prepared as possible!
Mock PADI IDC exams are a great way to prepare for your course and brush up on your knowledge.
By taking practice exams, you can see which topics you need to focus on and identify any areas of weakness.
Additionally, taking mock exams can help you get used to the format of the real exam and reduce your anxiety on test day.
Of course, no amount of preparation can guarantee a perfect score, but by taking mock exams you can give yourself the best possible chance of success.
So if you're looking to ace your PADI theory or standards exam, be sure to take plenty of mock exams first.
See All other Online Courses in Detail
Last modified: 10th January 2023
You'll be made very welcome if you come an join the "Prior Knowledge Family" Facebook page. It is packed with people just like you. Join up to meet them. It's a very safe place to be! Some of the members are very experienced and others are just starting out on the road to being a PADI pro.
Everyone is understanding, all willing to give helpful advice.  Many of them  have done previous courses with me over the past 20 years.
They're enthusiastic and passionate about helping others.
Please join us! You can give feedback on your PADI IDC Coaching Academy Course,  pick up tips, get advice and ask questions. It's a very friendly group.