PADI IDC Confined Water teaching
PADI IDC Confined Water and classroom teaching
PADI IDC Confined Water teaching. Prepare for your PADI IDC. Multi Platinum Course Director explains how to be successful on your IDC and IE.
PADI IDC Confined Water teaching schedule
The PADI IDC teaching for pool and class Online Course is full of videos and quizzes to allow you to learn the psychology of how people learn, and at the same time practice making Briefings, Debriefings and mentally rehearse teaching in the pool. 
PADI IDC Confined Water Instructor Update!
This is a great course to find out more about Allowing People to learn using Positive Coaching. 
Also see how easy it is for your students to learn using "Natural Buoyancy" 
The PADI IDC teaching in pool and class Course is £125 for one year access
Make PADI IDC Confined water - Student Centred
Allowing people to learn to dive first, before attempting any skills greatly improves confidence and leads to independent divers quickly.
You'll learn how to make all of your courses truly "Student Centred" where each of your students will learn using their unique and individual learning style.
During the program, you'll learn the importance of Positive Coaching. How it improves self-esteem and confidence and corrects problems without disrupting progress. 
It's the most natural way to learn, and Positive Coaching techniques are now being employed by some of the most effective leaders in the world.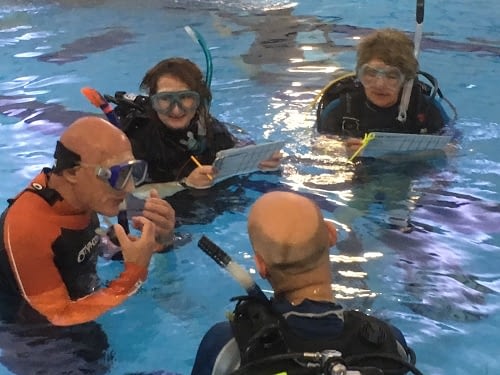 The PADI IDC teaching in pool and class Course is £125 for one year access
Learn how to teach people using the most natural method possible. 
In the same way that you learnt everything before! 
Allow people to get comfortable with their new surroundings every step of the way, and gradually let them improve. 
You'll be surprised at how fast they learn! 
PADI IDC Teaching in the classroom
On this course, you'll learn how to conduct a knowledge teaching presentation. 
It's important that when marking Knowledge Reviews the words used by an Instructor are effective, realistic and what the students want to hear. 
This is so useful for the real world as well as passing an IDC. 
The PADI IDC teaching in pool and class Course is £125 for one year access
The "Prior Knowledge Family" Facebook page is packed with people just like you. Join up to meet them. Some are very experienced and some just starting out on the road to being a PADI pro.
Everyone is friendly, all willing to give helpful advice.  Many of them  have done previous courses with me over the past 20 years.
They're enthusiastic and passionate about helping others.
Please join us! You can give feedback on your PADI IDC Coaching Academy  Course,  pick up tips, get advice and ask questions. It's a very friendly group. 
The PADI IDC teaching in pool and class Course is £125 for one year access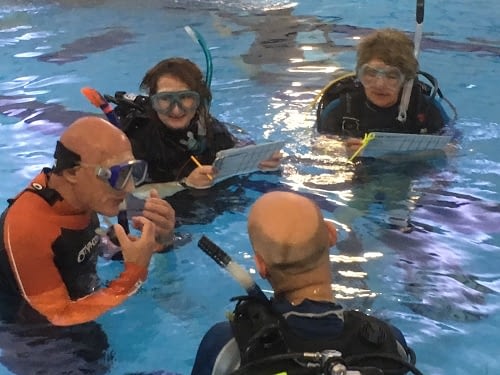 Steve became a PADI Course Director back in October 2000. 
Over the years he developed many techniques that helped people pass PADI Dive Theory and PADI Standards exams.  
YouTube
For example, his YouTube channel has over 5000 subscribers and over 450,000 views. And his regular update and Coaching Academy classes helps people from all over the world  become confident with teaching PADI exams.

Coaching Academy
Steve has developed a Coaching Academy for PADI professionals, which focuses on natural ways for people to learn and to teach.
Platinum Award 
He has taught over 5700 PADI certifications and reached the prestigious "Platinum Status" for 12 consecutive years. You'll see on the videos, he is just as passionate now as he ever was.