ReActivate yourself back to Scuba Diving
Whatever your current certification level is!
ReActivate yourself back to Scuba Diving after Covid. 
PADI ReActivate: The program for everyone!
Now that the world is recovering from covid, we're all slowly getting back to doing the things that we loved. 
But when it comes to scuba diving, you might feel a little bit awkward.
You might have forgotten some skills, feel a bit rusty, and maybe a little embarrassed to be around other divers. 
This can apply to all of us, regardless of our previous experience.
Whether you've logged 100 dives or 10 dives, you can get your skills, awareness, and confidence back with PADI ReActivate.
What is the PADI ReActivate Program?
The ReActivate program is designed to get you back scuba diving again after a break.
It's also ideal for refreshing skills from a past course, like a specialty course.
It's tailored to meet your needs and ambitions, regardless of your previous experience.
It starts off online, where you can quickly refresh knowledge topics that you're familiar with.
And then spend more time delving into more complex topics that you may have forgotten.
Once your dive knowledge is refreshed, you can move onto an optional in-water session where you can refresh skills with a PADI Professional. 
PADI's ReActivate program is very "proactive".
It's not like the old "Scuba Review" that simply ran through some basic skills.
Who can benefit from PADI ReActivate?
It's normal that you'll have forgotten a lot of things, especially if you were certified just before lockdown hit us all.
The pandemic has forced us to stay away from the water, and away from mixing with others.
It has focused our minds on things far removed from scuba diving.
It was different when you were on your course.
You were cared for and looked after.
You were in the safe hands of your instructor.
During your training, you were given the time and space to practice and develop your new skills.
All you wanted to do was pass the course!
At that time, your main aim was to get your certification card.
It would be your passport to fun, the future, and the world.
Now your certification card isn't your friend anymore!
But right now, you might feel that your card isn't your friend anymore! 
After all, it tells the world that you are a diver. 
It states that you're qualified to dive in the ocean. 
But that's not the way that you feel right now.
You need to get your mojo back! Back to where you were before the pandemic.
Sometimes it's even worse if you're an experienced diver.
You might feel that you're under pressure from others because they expect you to be the same as you were before our enforced break.
But the fact is that everyone loses confidence when they haven't done something for a long time.
You're bound to be a bit rusty, and your awareness will certainly have suffered.
The PADI ReActivate program is the solution.
You'll feel so much more confident if you could brush up on skills like: 
Buoyancy
Trim
Ascents and Descents
Or you could simply focus on one area. 
For example you could just ReActivate your Delayed Surface Marker Buoy specialty course. 
Then you can have confidence with an upcoming wreck dive with friends. 
First, you refresh your basic theory knowledge using PADI ReActivate eLearning.
There are many videos where you can interact with dive scenarios. 
There are 20 sections. It's very interactive.
It's so easy to use. 
You can download all content and refresh your knowledge offline on a tablet, mobile or desktop. 
You'll need to download the PADI Training App (Apple and Google play).
All along the way, you can check your knowledge.
If you're happy, you just move on, if not, there are links to more detailed information about each subject. 
At the end, there is a ReActivate Quick Review, which leads to a ReActivate Certificate which you can print out.
Once you've completed the ReActivate eLearning, you have the option to visit a PADI Professional to refresh your diving skills.
The session will be in a pool or in open water depending on your needs.
If you're fairly inexperienced you'd probably prefer to be back in confined water practicing the basic skills.
But if you're more experienced, then you might want to be in open water.
Either way, you need to get your confidence back and brush up on your general diving skills.
You can spend time practicing any skills that you need. 
However, there are some skills that are mandatory.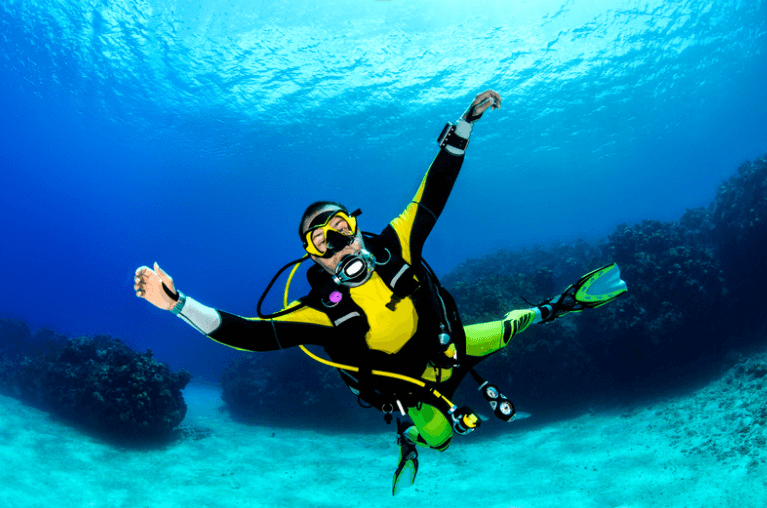 What are the 4 Skills that you must demonstrate on PADI ReActivate?
Remove, replace and clear the mask.
At the surface in water too deep in which to stand, with a defated BCD, use the weight system's quick release to pull clear and drop sufficient weight to become positively buoyant.
Ascend properly using an alternate air source and establish positive buoyancy at the surface. Act as both donor and receiver.
After that, you can brush up with any skills linked to whatever course you want to ReActivate.
You'll have to complete some standard forms:
Release of Liability/Assumption of Risk/Non-agency Acknowledgment Form Certifed Diver Experience Programs (10074).
Diver Medical form (10346).
Standard Safe Diving Practices Statement of Understanding (10060).
Or Continuing Education Administrative Document (10038or EU 10541).
After that, you can move on to get into the water.
Your personal ReActivate service!
Make sure that you get what you need! 
It's a very personal type of program. 
It's very prescriptive.
Your instructor will ask what exactly you need to achieve from the program. 
It's an excellent way to get back into diving again.
Once you've completed the program, you'll get a replacement PADI certifcationcard with a "ReActivated Through" date, which is two years after you complete the program.
The card will also show your original certifcation date.
It can be used for any certification. For example any speciality course. 
PADI ReActivate is for ANY course
As I mentioned before, the ReActivate course isn't the same as the old Scuba Review program. 
That course was basically only for people who hadn't dived for a while.
The Scuba Review had a fixed set of theory and a schedule that only covered basic skills.
The ReActivate program is much more than that. 
You can ReActivate whatever level you would like. 
PADI ReActivate for Rescue Divers
So, for example, if you were a PADI Rescue Diver who hadn't practiced rescue skills for a while, you could specify that you wanted to ReActivate your Rescue Diver Certification.
You'd still have to perform the 4 skills above, but then you could concentrate on skills like:
Surfacing the unconscious diver
Unconcious diver at the surface
Missing Diver
Or any other Rescue skills that you wanted to improve on.
Why should we do PADI ReActivate?
Do PADI Certification cards expire?
PADI Certification cards never expire, however that doesn't stop us divers getting rusty!
When we show our certification cards to dive shops, an certain standard is expected. 
Dive shop staff are aware that there will always be a difference in people's abilities. 
But if they see a ReActivated certification card, they can give you a better service and they themselves can feel more confident. 
What if I'm not a PADI Diver?
It doesn't matter what diving organisation you trained with. 
Providing that you have an entry-level diver certification from another training organization (with a minimum of four open water training dives) you can get a ReActivate Recognition Card.
This will show that knowledge and entry-level skills have been refreshed.
Last modified: 10th January 2023