What are 6 benefits of doing a PADI Internship?
If you're a PADI divemaster who wants to take your career to the next level, doing a PADI IDC Internship is the way to go. This program offers many incredible benefits.
What are the benefits of doing a PADI Internship?
The PADI IDC Internship is one of the most popular routes for becoming a certified PADI Instructor. 
It offers divers a chance to learn from some of the best instructors in the world, and provides them with all the skills and experience they need to become successful dive educators.
1. Increased knowledge and understanding of the PADI system
Doing a PADI IDC Internship will help you understand the whole PADI system in more detail.
This is important because it will allow you to teach courses more effectively and more efficiently. 
More employable in the future
In addition, having a greater knowledge of the ins and outs of the PADI system will make you a more valuable asset to diving centers and resorts in the future.
The PADI system is designed to provide divers with the knowledge and skills necessary to safely dive in a variety of environments. These programs can help divers hone their skills and become more knowledgeable about different aspects of diving.
Completing your PADI IDC on an Internship will help you fully understand the complexity of PADI standards and how they interact with each other.
2. The opportunity to work with some of the best instructors in the industry
A PADI IDC Internship is the perfect way to get your foot in the door of the diving industry.
You will have the opportunity to work with some of the best PADI Instructors in the business and gain valuable experience that will help you in your career.
The program is also a great way to meet other like-minded people who share your passion for diving.
Whether you are looking to start your own dive center or work for someone else, a PADI IDC Internship is the perfect place to pick up some wonderful ideas.
You will get experience teaching real students in a variety of settings, from shallow reefs to deep wrecks.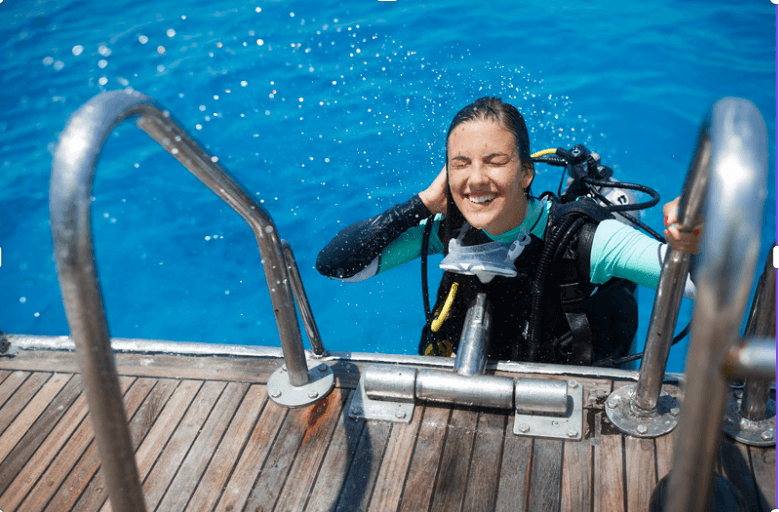 You will also learn how to better manage your time and resources, as well as how to market your business.
In addition, you will have the chance to learn about dive equipment and safety procedures.
By the end of your internship, you will be better prepared to start your own dive business as a PADI Instructor.
3. Improved teaching skills and techniques
One of the main benefits of an internship is that it allows you to improve your teaching skills and techniques.
As time goes on, you will be able to work with a variety of students, in a variety of settings.
You will get to see first-hand how different teaching methods work.
Different learning styles
You'll notice that each of your students will be unique.
This will give you a better understanding of how to effectively teach people with different learning styles.
In addition, you will also receive instant feedback which will help you to develop your teaching style and methods.
This experience will be invaluable when you are ready to start your career as a coach and motivator to your own customers. 
You'll be ready to change people's lives and help them reach their dreams.
4. Greater confidence when leading courses and workshops
During your PADI IDC Internship, you will have the opportunity to lead workshops and courses on a variety of topics.
This experience will help build your confidence when leading groups, as you will become familiar with the process of designing and delivering presentations.
As you progress, you'll learn how to develop even more engaging content.
You'll also gain confidence when it comes to managing a group of learners with differing personalities.
You'll get more comfortable with adapting your teaching style to meet the needs of different groups of people.
The same applies underwater. 
You'll get the chance to lead various dives, for various divers. 
Some will be confident and experienced, others will be less so.
As your training progresses, you'll feel happier changing your leadership style to meet the needs of your customers. 
5. The chance to network with other dive professionals from around the world!
You'll have the chance to work with some of the best in the business, and you'll get to meet people from all over the world who share your passion for diving.
Some of these people will be life-long friends. You never forget the people that you meet on your PADI IDC.
In addition, you'll get to experience first-hand what it's like to work in a professional setting and learn about the latest industry trends.
As a PADI Instructor, it's so important to keep up with the latest teaching methods as well as keeping up with changing PADI standards.
PADI IDC Internship career opportunites
Best of all, A PADI IDC Internship can lead directly to your first career opportunity in diving, so it's a great way to get started in this exciting field.  
A PADI IDC Internship is the perfect way to prepare you for the real world as well as prepare you to pass the PADI Instructor Exam.
6. A more well-rounded diving experience
PADI IDC Internships offer a more well-rounded diving experience than many other dive programs.
It's a real, fully comprehensive training program.
As an intern, you'll not only gain valuable experience leading dives, but you'll also learn about compressor operation, dive site management, and emergency procedures.
In addition, IDC interns are often able to complete a variety of other industry related courses, such as boat captain, or dive equipment servicing.
As a result, a PADI IDC Internship provides you with the opportunity to develop a wide range of skills that will be invaluable in your career as a professional diving instructor.
In addition to all of the benefits of a PADI IDC Internship, one more remains. 
When it comes to your PADI Instructor Exam, you'll be confident, assured and ready for whatever the PADI Examiners ask of you.
Even though the PADI Internships are very comprehensive, it's still a great idea to be fully prepared before you start your new experience. 
Most people find this the ultimate PADI IDC Course Study Guide  when it comes to mastering  dive Theory and PADI Standards exams.
Complete PADI IDC Preparation Course
FULLY UPDATED FOR 2023 
24 Videos
30 Quizzes
Dive Theory and Teaching Skills
How to teach in confined water
5 Mock PADI IE  dive Theory Exams
5 PADI Standards Exams (using the 2023 instructor manual).
This online course is perfect for you.
Explained in simple terms
Jargon Busting sections!
Lots of practice exams
Videos (not taught in the "PADI" way!)
Quizzes to help you understand
The most "up to date" questions
Standards questions based on 2023 PADI Instructor Exam
All Standards exam questions found in 2023 version of PADI Instructor Manual
If you have found traditional teaching difficult to understand, then this course is for you.
It's packed with simple videos and quizzes to help you with any subjects that you find difficult.
I explain things in very simple terms. I try to break through the "jargon" and also give tips on how you can pass this information over to others. 
Last modified: 10th January 2023