What makes a good PADI Instructor?
Today is the best day to start working on becoming the Instructor that you want to be tomorrow.
We all want to improve.
To be the best.
Life is too short to be mediocre!
What makes a good PADI Instructor?
A great Instructor is not only someone who helps you achieve your goals. They believe in you and want you to reach your full potential. Someone who will challenge you. Someone who will be there for you when you need them, and someone who will celebrate your successes with you.
What should our goals be?
We can all find sections in the instructor manual that lists:
"Duties of a Divemaster" 
or
"Duties of an Instructor"
But we all know that the duties of PADI professionals goes much further than that.
A PADI professional is such an important part of the diving community. 
What do our customers see?
PADI Instructors are the heart of the diving community
They help people from all walks of life find their passion for diving
PADI Instructors make a huge difference in the lives of others
They are educators and role models
PADI Instructors are ambassadors for safe diving practices
They provide support to divers of all levels
PADI Instructors are always learning and growing.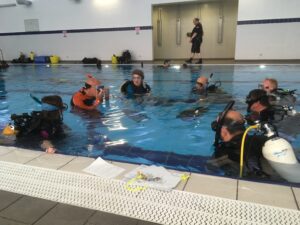 Watch the most successful PADI Professionals, even those in the smallest of Dive Centres.
What more do you see?
They're good listeners and never judge.
They're supportive and will always be there for people.
They are organised and efficient so they can help you stay on track.
They help people figure out what they want in their diving life.
They are not only encouraging, but also able to instil confidence and self esteem.
They're creative problem-solvers and can help in the most difficult of problems
They have a positive outlook on life.
They're someone who can help achieve goals.
They really care about their customers.
Coaching is their passion and they do it because they love it.
Where to go from here? starting today!
Let's first take a closer look at the skills and knowledge that our customers expect from us, and then make a decision on where you can improve. 
For now, we can break this down to two main core areas
Diving knowledge and skills
Teaching and coaching skills
You can always be a better Instructor tomorrow than you are today.
It's surprising how your own confidence levels rise and your own ability to be assertive when you are really up to speed with these skills. When your dive knowledge is current and you're using modern teaching techniques.
I myself have been a PADI Instructor since 1991. 
Even NOW I'm learning how to be more efficient, and use skills more in tune with today's divers. 
The learning process never stops. 
Listen more and talk less
Be patient with those who are slower in conversation
Try to be "in their shoes"
Praise people when they do well
Give compliments
Help people set realistic (but sometimes ambitious) goals
Insist on a FUN atmosphere
Make it a SAFE place where people can ask, or say whatever is in their mind
Ask them more questions to help you fully understand their needs. 
Celebrate every victory both yours and theirs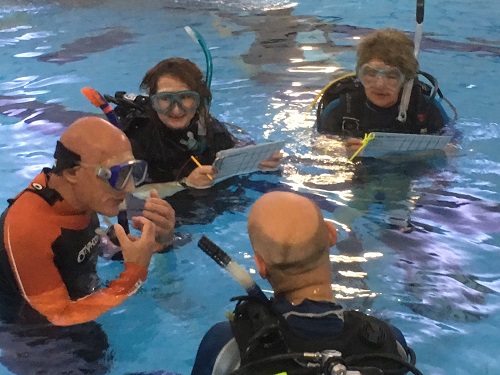 This video might help you answer some of these questions:
Who is the BEST in the world?
Who decides who is BEST?
How can you improve?
Why should you improve? 
Can YOU become the best in the world?
(It's from my FULL IDC Preparation Course)
PADI Instructor - Personal Development
You can become an even better leader
Most of all you'll want to improve people's lives
So popular that your students will come back to time and time again and recommend you to their friends
You'll have a waitlist of students wanting to get into your classes. 
You can make a real difference in the world.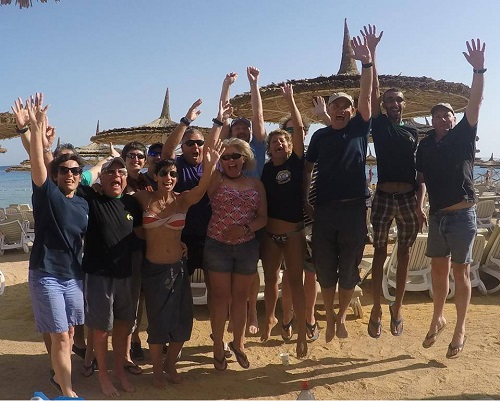 PADI Instructor development- Knowledge and Skills
How confident are you when a diver asks a question about baratrauma? 
How about when a divemaster asks you a question about PADI standards?  
Can you answer these questions with confidence without hesitation? 
What about your diving skills? 
As a PADI professional, you're always being watched and often judged by the way that you conduct yourself in the water. 
Are you happy with the way that others see you? 
What areas can you improve on, and in turn earn more respect?
Start by taking a good look at yourself and your skills. Consider what areas you need to work on, and then make a plan to improve in those areas.
 Whether it's taking additional courses or simply practicing your diving skills more often, making the effort to improve will show others that you're dedicated to being the best PADI professional possible.
Improve your Dive Theory and Standards Knowledge with these 2022 Mock Exams
Click HERE for FIVE mock exam papers for US$49 (or equivalent in your currency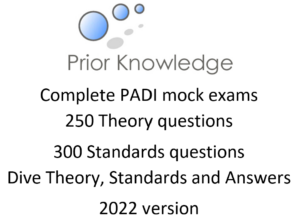 PADI Instructor development - Teaching and coaching skills
Are you able to install confidence and self esteem in your students? 
How confident are you in teaching people with different learning styles? 
Do you get frustrated when a student just "doesn't get it"?
Are you able to focus on the needs of each and every individual student? 
Are you able to build rapport that genuinely builds success?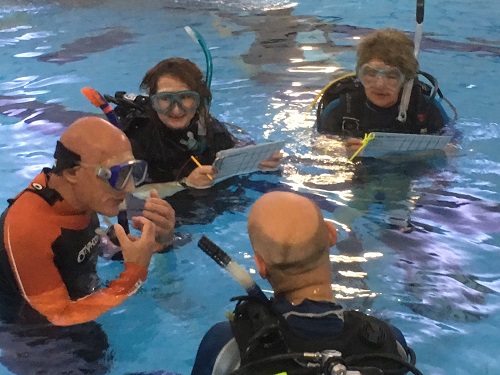 Why should you improve yourself?
As your Instructor personal development skills improve, benefits are quickly seen on both sides of the process.
Your students:
Your students look to you for inspiration. They look to you for guidance.
It's not only your knowledge that they seek, but also empathy, understanding and the way that you communicate. 
The more you improve on these skills, the more your students will learn.
Yourself:
As your students rely more on your judgement and your help, you'll get more respect from all other professionals around you. 
You'll get more and more satisfaction from truly knowing that you're improving people's lives.
One of the most important benefits of improving your instructor personal development skills is that your students will learn more.
This may seem like an obvious point, but it's worth stressing:
If you're able to better empathise with your students, understand their needs and communicate effectively with them, they will be able to absorb and retain more information from your lessons.
This, in turn, will lead to better results in their studies overall.
My role in PADI Instructor - Personal Development
The Complete PADI IDC Preparation Course is US $ 99
Online Full IDC Preparation Course
Despite it's title, this is a very powerful course for PADI instructors and divemasters to improve their personal development. 
It covers theory and teaching new skills to divers. 
It covers important subjects like: 
Positive Coaching
Ownership of learning
Empowerment
Allowing people to learn
and lot's of other wonderful topics. 
You can join the course by clicking on the picture, or you can find more information here about the Complete IDC Preparation course 
What makes a good PADI Instructor? summing up
There are many qualities that make a good PADI Instructor, but one of the most important is a passion for scuba diving and a desire to share that passion with others.
A good Instructor is also patient and able to adapt their teaching style to meet the needs of each individual student.
They must also be able to remain calm in any situation and be able to think on their feet.
Good Instructors are also excellent communicators and will always make sure that their students understand what they are doing and why.
Finally, a good Instructor will always put the safety of their students first. These are just a few of the qualities that make a good PADI Instructor.