Your PADI IDC Guide to success. Plenty of practice with Theory and Standards. Plus many videos on how to teach in pool and class.
Choose which online course is the best for you.
Which course is the best for you? 


PADI theory and PADI Standards
Steve Prior covers EVERY area of PADI dive theory and PADI standards in the first course.
There are videos and presentations and HUNDREDS of test questions to help you to prepare for your PADI IDC
Teaching in confined water and in the classroom
Steve goes way over and above simply showing you how to prepare for a PADI exam. 
He explains the psychology of how people learn, and how you can use that knowledge to make your teaching really effective both in the real world and on a PADI IDC
FULL PADI IDC preparation course
Simply both courses added together. By far the most valuable help available, both in cost and in practical help. 
No stone is left uncovered. Steve teaches all subjects in the same way that he would teach on an IDC (and he has taught many hundreds of them in the past!)
PADI IDC guide to Dive Theory
PADI IDC Theory Preparation online Course
Do you need help with Physics? Standards? any of the the theory questions? Don't worry, there's help here.
Lots of mock exams, lots of quizzes to practice with, and lots of videos explaining everything you need to know to be able to be successful with your PADI IDC.
All topics are covered, including lots of Standards questions and exams based on the latest PADI Instructor Manual.
More information about the IDC Theory Preparation course here.
Or sign up here: the cost is £125 
PADI IDC guide to Practical skills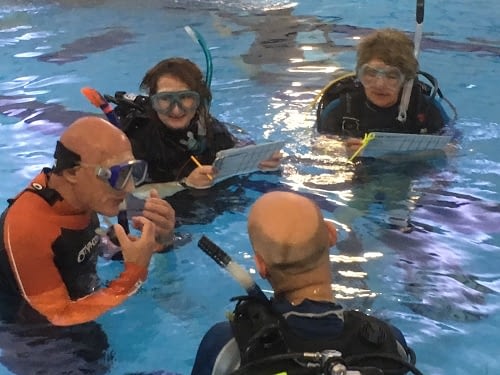 PADI IDC teaching in pool and class online course
Do you know how to make a really effective briefing in confined water? Or how to correct students when they don't do things correctly?
Understanding the psychology of how people learn not only helps you to pass an IDC, but also gives you the skills to be a terrific instructor afterwards. 
Steve Prior explains how Positive Coaching can be so effective in correcting problems. 
He also explains how instructors can encourage new divers to move around rather than kneel down. 
There's lots and lots of valuable information that Steve teaches on his IDCs and also on instructor updates.
The course covers, briefings, demonstrations, organisation, problem solving and de-briefing. 
Steve also explains exactly what you need to do to make an effective Classroom Teaching presentation. 
Ideal preparation for your IDC. 
More information about  PADI IDC confined water teaching here
Or sign up here: the cost is £125
IDC Guide to the best of both worlds!
Full IDC Preparation Course
Really the best of both worlds. 
ONE course, but with all topics included. 
Lot's of practice papers for theory and standards. 
Many videos to watch and learn from. 
Physics, Physiology, Equipment, Skills and Environment and RDP. 
All covered, all likely questions and answers covered many times over so you can test yourself over and over again. 
Learn how to be the best instructor possible with the Teaching in Confined water and classroom sessions. 
Not only will you be able to easily pass an IDC but you'll be a fantastic instructor afterwards.
More information about the FULL IDC Preparation Course here
Or sign up here: the cost is £149